Saturday, December 8 – Immaculate Conception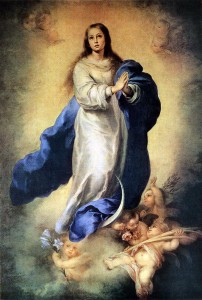 Many Catholics think that this feast day refers to Mary's conceiving Jesus by the Holy Spirit. It is Mary, herself, who is the Immaculate Conception. In fact, it refers to the conception of Mary in the womb of her mother, St. Anne, by Mary's father, St. Joachim.
What makes her conception immaculate is not that she was conceived by the Holy Spirit, but that from the very moment of her conception, she was filled with God's grace. God knew in His infinite knowledge that she would say "yes" to the Angel Gabriel and become the Mother of the Savior. This is not the equivalent of being baptized. Baptism removes original sin from a soul and makes the person a child of God. Mary on the other hand was given sanctifying grace before sin could have taken effect in her soul. God preserved her from original sin so that His Son would have a sinless mother. Exactly nine months from this day, on September 8, the Church celebrates Mary's birthday.
Only 4 persons with human natures were in their first moments without sin—Adam, Eve, Mary and Jesus. Only Mary and Jesus remained sinless.
Popes throughout the ages have honored the Immaculate Conception of Mary and December 8 was made a Holy Day of Obligation in 1708.
In 1847, Pope Pius IX proclaimed Mary as patroness of the United States, under the title of her immaculate conception. Today, the Solemnity of the Immaculate Conception is the feast day of our patron saint in the United States.
Note: Mary's "yes" to the Angel Gabriel and her "Magnificat" may be found in Luke 1:26–56.