Thursday, May 30 – Ascension of the Lord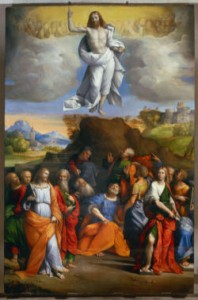 Forty days after the Resurrection (at Easter), Christ ascends bodily into heaven within the sight of the apostles. This is recorded in the book the Acts of the Apostles. This feast marks the returning of Jesus Christ to God the Father in heaven and is the final component of the paschal mystery which consists of Jesus' Passion, Crucifixion, Death, Burial, Descent among the Dead and Resurrection. His Ascension further proved the claim that He was the Messiah and marks the event whereby humanity was taken into heaven. The Catholic Catechism summarizes three important theological aspects of the Ascension: Christ's Ascension marks the definitive entrance of Jesus' humanity into God's heavenly domain, whence he will come again (cf. Acts 1:11); this humanity in the meantime hides him from the eyes of men (cf. Col 3:3).
Jesus Christ, the head of the Church, precedes us into the Father's glorious kingdom so that we, the members of his Body, may live in the hope of one day being with him forever.
Jesus Christ, having entered the sanctuary of heaven once and for all, intercedes constantly for us as the mediator who assures us of the permanent outpouring of the Holy Spirit (Catechism of the Catholic Church 665-667). The reality of the Ascension is so important that we affirm it each time that we pray the Apostles' Creed. ("He ascended into heaven, sits at the right hand of God the Father almighty; from thence He shall come to judge the living and the dead.") Ascension Thursday is also a Holy Day of Obligation for the faithful. The Ascension marks the beginning of the first novena, or nine days of prayer. Before His Ascension, Christ promised to send the Holy Spirit to His apostles. The apostles waited and prayed in the upper room for nine days with the Holy Spirit descending upon them on Pentecost Sunday, ten days later.