Thursday, November 1 – All Saints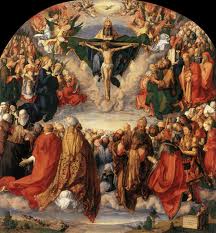 Everyone knows about Halloween; you get dressed up as a princess or a scary monster and go knocking on doors to get candy and good stuff. But did you know that Halloween actually means "All Hallows Eve" or "All Holy Eve"? The "holy" refers to the day after Halloween, November 1st, which celebrates the holy people who are saints in heaven.
On this day, the Church honors all the saints who have ever lived, the known and the unknown. This holy day on the Church calendar is a lot like American holidays such as Veterans Day or Presidents Day where many people are honored on one day. While we know about many saints and we honor them on specific days, there are many unknown or unsung saints that we may have forgotten or never gotten to know. On All Saints Day, we celebrate these saints of the Lord and ask for their intercession and prayers just as we ask one another for prayers. The Catholic Catechism states "Being more closely united to Christ, those who dwell in heaven fix the whole Church more firmly in holiness…They do not cease to intercede with the Father for us…So by their fraternal concern is our weakness greatly helped."
The whole concept of All Saints Day is connected to the "communion of saints" that we profess in our Creed each Sunday at Mass ("I believe in the communion of saints, the forgiveness of sins, and life everlasting"). This is the belief that all of God's people, in heaven, on earth, and in the state of purification (also called purgatory) are connected in communion to each other. Therefore, whether on this earth or not, we are all ONE with each other in Jesus Christ. We are all part of one Catholic family.
Christians have been celebrating the saints and martyrs of the Church since at least the 2nd century. Initially, the calendars of the saints varied from location to location and many times local churches honored only local saints. However, gradually the feast days became more universal. The first reference to a general feast celebrating all saints on one day occurs in writings of St. Ephrem the Syrian (AD 376). St. John Chrysostom (AD 407) assigned a day to the feast on the first Sunday after Pentecost which is when the Eastern Churches still celebrate this very special day. The current observance of All Saints Day on November 1st in the West probably originates from the time of Pope Gregory III (d. AD 741).
Initially in English speaking countries, Halloween or All Hallow's Eve was about mocking evil because as Christians, we believe evil has no real power over us. The root of our modern "trick or treat" was about poor people in the Middle Ages begging for "soul cakes" and upon receiving the cake, they would pray for the departed souls.
So in the Church liturgical year, a day is set aside to honor and commune with those good and holy people who have gone before us. It is a day to honor them and pray with them for the good of all God's people.