Tuesday, January 1 – The Solemnity of Mary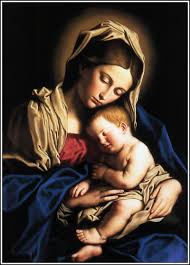 Although New Year's Day may seem more like a day for football games and naps, it is in fact a Holy Day of Obligation known as "The Solemnity of Mary" (Our respective bishops may waive the obligation for various reasons; when in doubt, check with your parish office).
Using the word "solemnity" is not a statement about Mary's state of grace but is used to identify certain days within the Church calendar that are considered highly regarded over other feast days or memorials. By celebrating a "solemnity" dedicated to Mary's motherhood, the Church is highlighting the significance of her part in the life of Jesus and is emphasizing that he is both human and divine.
Today Mary's solemnity is accepted as truth, however in the 4th and 5th centuries, debates were raging about the nature of Christ in the Church. The debate was about the relationship of Christ's divine and human natures. At the center of all of this was the title of Mary. Around the 3rd century, Christians had referred to Mary as theotokos, meaning "God-bearer" Mary was known then as the mother of God. This title was objected to by individuals at the time who felt Mary was only mother of Christ's human nature but not his Godly nature. A Church council was called to discuss and determine exactly Mary's role in salvation history. At the Council of Ephesus in AD 431 and again at the Council of Chalcedon in AD 451 it was determined that Christ was fully God AND fully human, and these two natures were united in one person, Jesus Christ. Thus Mary could be called "mother of God" as she gave birth to Jesus who was fully divine AND fully human.
The Solemnity of Mary is intentionally celebrated one week after Christmas at the end of the Christmas Octave. The Church in its wisdom recognized that it was fitting to celebrate Mary as Mother of Jesus following the birth of Christ. When we celebrate Jan. 1st , we are not only honoring Mary who was chosen among all women throughout history to bear God made man, but we are also honoring our Lord who is fully God and fully human. Pope Paul VI, in his apostolic exhortation Marialis Cultus (1974), called the Solemnity of Mary "a fitting occasion for renewing adoration of the newborn Prince of Peace, for listening once more to the glad tidings of the angels (cf. Lk 2:14), and for imploring from God, through the Queen of Peace, the supreme gift of peace." This solemnity, falling on New Year's Day, is also designated the World Day of Peace.