Wednesday, August 15 – Assumption of Mary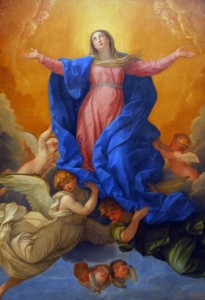 The term "Assumption" refers to Mary being "taken up" body and soul to Heaven. The Solemnity of the Assumption of the Blessed Virgin Mary is on August 15.
This is different from Jesus' Ascension. Christ ascended into Heaven by his own power, while Mary's Assumption was done by the power of God.
While this feast is very old and has been celebrated universally since the sixth century, it was only on November 1, 1950 that Pope Pius XII, declared the Assumption as dogma of the Church: "We pronounce, declare and define it to be a divinely revealed dogma that the immaculate Mother of God, the ever Virgin Mary, having completed the course of her earthly life, was assumed body and soul to heavenly glory." (Exercising papal infallibility through the Apostolic Constitution Munificentissimus Deus).
Scripture does not give an account of Mary's Assumption. However, since Mary is closely associated with all the mysteries of Jesus' life, it is not surprising that the Holy Spirit has led the Church to believe in Mary's share in his glorification. Since she was so close to Christ on earth, she must be with him body and soul in heaven. Mary's Assumption was God's way of finishing the job he started at Mary's Immaculate Conception.
This feast is the most important of all Marian feasts because it signifies the passing of the Blessed Virgin Mary into eternal life and therefore it is celebrated as a holy day of obligation. In the United States, it is celebrated on August 15th, unless it falls on a Saturday or Monday, when the obligation is abrogated (temporarily waived).
"In contemplating the Virgin Mary we are granted another grace: the ability to see our own life too in depth. Yes, because our own daily existence, with its problems and hopes, receives light from the Mother of God, from her spiritual journey, from her destiny of glory: a journey and a destination that can and must become, in a certain way, our own journey and our own destination."
Homily of His Holiness Benedict XVI – Solemnity of the Assumption (St Thomas of Villanova Parish, Castel Gandolfo, August 15, 2011)