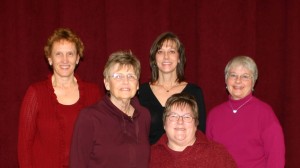 The Health ministry is ever mindful of the strong relationship between faith and health.  Churches have always been places of healing and through the Church we understand the meaning of health:  harmony of mind, body, and spirit and living in relationship with God and each other.  Our parish health team can make a difference in peoples' lives through ministries for health promotion, illness prevention, and support through difficult situations.  Our actions can reaffirm the Church's role in ministering to the whole person:  body, mind, and  spirit.
Activities/Programs:
Dissemination of health information to the parish through newsletters, bulletin boards and/or web postings.
Plan monthly blood pressure monitoring.
Be open to the needs of the parish in planning programs.
New Healthcare Professionals are always welcome.
Contact Linda Terrano 402.483.5874 or Maureen Bausch 402.202.4985 for more information.