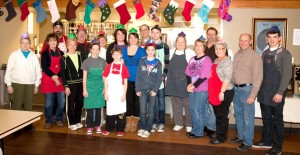 The next upcoming date for meals is October 31 EVENING meal. Please refer to the sign up sheets on the bulletin board in the Commons Area to: Donate cash for ingredients/supplies (we are in most need of this type of donation) or volunteer to work.
The Mission of Matt Talbot Kitchen & Outreach is to serve the physical, emotional and spiritual needs of Lincoln's working poor, and homeless through outreach, advocacy, education and the provision of food and shelter.
Matt Talbot Kitchen serves lunch and dinner 365 days a year through volunteer help from parishes, such as St. Michael, and organizations from Lincoln and the surrounding areas.  St. Michael participates by providing food, preparing and serving meals on a scheduled basis.
To learn more about Matt Talbot Kitchen & Outreach check out their website at www.mtkserves.org.
To learn how you can become involved in the Matt Talbot Ministry at St. Michael contact Chloe Burianek at 402.499.2438.