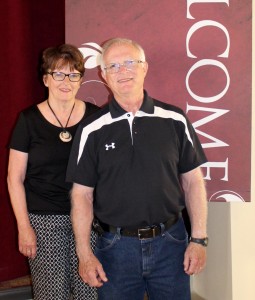 St. Michael parish is a rapidly growing community!  New parishioners are welcomed with a home visit by a member of our New Parishioner Welcome Committee and greeted with a special gift from the parish.  In addition, special dinners are hosted at the rectory for three to four new parish families at a time and provided by the committee.
These dinners offer a chance for the families to meet our pastors and to connect with a few other parishioners as well.  The dinners are informal and a wonderful opportunity to get to know one another.
Not a member yet?
If you live within the parish boundaries but have not yet registered at St. Michael, click on Join Our Parish at the top of the page to complete the registration form.  We look forward to meeting you!
Want to help?
The New Parishioner Welcome Committee is always open to new members wanting to be involved in the welcoming of new parishioners and hosting the dinners.  To join our team contact Steve or Carolyn May 402.499.8044 or sacmay47@gmail.com.