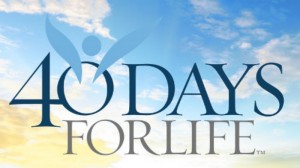 Lincoln Right to Life has organized the 2016 Lenten 40 Days for Life Prayer Campaign, beginning February 10 and ending March 20.
Our parish has been asked to pray at Planned Parenthood on Saturdays from 6:00am through the 1:00pm hour.  Sign-up sheets are available on the bulletin board in the back of the Commons Area.  You do not have to commit for a weekly hour; you may sign up for one Saturday hour during the campaign.
Pro-life activities, programs and events at the parish level are implemented in response to the Bishop's Pastoral Plan for Pro-Life Activities. The parish program exists to educate and promote response to life issues, endorsing the sanctity of life at all stages, specifically addressing abortion, infanticide, and euthanasia. Our Parish Coordinator works under diocesan leadership to achieve these goals. If you are interested in joining the St. Michael's Pro-Life Committee, please contact Jeanie Kenkel thejeopardyfan@gmail.com.
Prayer People Needed!—We need YOU to come and pray Tuesdays between 7AM – 3PM at 48th & Old Cheney. Group Rosary is prayed at 9:30AM. It has been 20 years since the Lincoln Planned Parenthood abortion facility opened.
Pro-Life Local Websites
Pro-Life National Websites