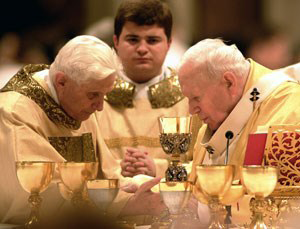 Totus Tuus comes to St. Michael Parish every summer!
Totus Tuus
"Totally Yours"
Totus Tuus is a Catholic youth program dedicated to sharing the Gospel and promoting the Catholic faith through catech-esis, evangelization, Christian witness, and Eucharistic worship. The goal of Totus Tuus is to help young people develop their relationship with Jesus Christ so that there is an intimate friendship whereby He may lead them to the Father by the power of the Holy Spirit. To accomplish this, we emphasize a devotion and love for our Lord in the Eucharist and for Mary our Mother. We strive to help young people to understand their faith through catechesis so that they may live it in today's world. We do this in such a way that it is fun for both teachers and youth alike. A Totus Tuus teacher helps to make the faith real to the youth as a way of life and love.
The program calls upon college students and seminarians from across the United States to carry out this mission. Those hired are trained and put onto teams of four (two men and two women) to go out into a parish for a week, putting on a "parish mission for youth" in order to teach and inspire. They conduct these missions for seven weeks. In addition to communicating our faith and translating it into daily life, we also strive to foster Christian vocations. It is our firm belief that an individual's vocation, their calling from God, can only be heard and responded to if that person is living a Christian life. We strive to foster this, first and foremost, in our teachers by providing them with an understanding of the faith, a strong prayer life, and an opportunity to witness to their faith. The teachers sign a "covenant" in which they promise to be open to God's will for them and to actively discern God's call in their lives. Because the teachers are striving to live an authentic Christian life and are actively discerning their vocation, they can better help the youth to do the same.
The Mission
The mission of Totus Tuus is to inspire in young people a true longing for holiness, a deep de-sire for daily conversion, and an openness to their vocation by constantly challenging them to give themselves entirely to Christ through Mary by continually strengthening their prayer lives in imitation of Her.
The Five Pillars of Totus Tuus
1. The Eucharist
2. Marian Devotion
3. Catechetical Instruction
4. Vocational Discernment
5. Fun
Our Motivation
Totus Tuus is Latin for "Totally Yours" and the motto of Pope John Paul II. Taken from St. Louis de Montfort's great work, True Devotion to Mary, it represents our desire to give our-selves entirely to Jesus Christ through the hands of His Immaculate Mother. Totus Tuus, then, reminds us of the tremendous and sometimes difficult call to give ourselves completely to Christ while relying on the intercession of His Mother. The program also embodies every Christian's call to preach the gospel to all those we meet.
This challenge to be Totus Tuus is accepted with great joy! The teams come to know and love the vitality, faith, and courage of all the youth they encounter. The youth are seeking not just role models, but HEROES who are striving to live and proclaim, "Lord, I will be totally yours". With joy and honor, Totus Tuus serves these youth and shares with them the blessings that God has given them. Therefore, the teachers dedicate their summers entirely to the youth. By giving all they have to these young leaders of the Church, the teachers are transformed into HEROES, and it is through this total giving of self that the youth are able to identify with these men and women who are ON FIRE with our Catholic faith.
The Five Marks of Totus Tuus
1. Proclamation of the Gospel...to arouse faith.
2. Explanation...examination of the reasons for our beliefs.
3. Christian Witness...an experience of Christian living.
4. Celebration of the Sacraments...especially Holy Eucharist and Confession.
5. Active witness of the Missionary Nature of the Catholic Church.